Fox threatens to leave network TV in protest over Aereo lawsuit
A court has sided with Internet TV start-up Aereo over the big networks. Now, Fox threatening to cut its broadcast signals.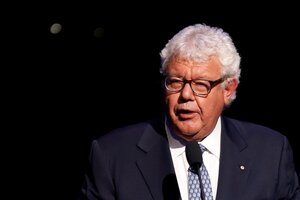 Mike Segar/Reuters/File
A US Court of Appeals delivered a blow to TV networks in their case against online start-up Aereo. In what was viewed as a major win for the small company, the court ruled that Aereo may continue to stream broadcast TV shows via the Internet. Such transmissions do not constitute as "public performances" of copyrighted work, much to the chagrin of television networks like Fox.
The New York-based start-up came up with a clever end run around normal copyright laws. Aereo has hundreds on TV antennas in New York, each picking up broadcast TV and posting live feeds to the Internet. Aereo subscribers are then assigned to two antennas, one for recording (like TiVo) and one for streaming, which they may tap into from any computer, but will not be shared with anyone else.
The television networks's battle with Aereo deals with the idea of re-transmission. When networks sell their programming to services like Hulu, the Web company pays the networks a re-transmission fee. Aereo, however, does not pay re-transmission fees. The idea is that consumers with antennas do not normally pay for the programming; Aereo is simply extending the reach of people's antennas to a place outside of their homes and allowing the same families to view the free programming.
---