Elon Musk is now the proud owner of James Bond's submarine car
Musk says he will install a Tesla drivetrain in the sub car, and 'try to make it transform for real.'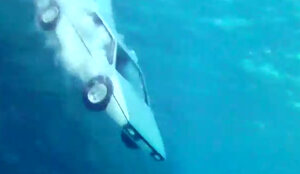 YouTube
In the 1977 flick "The Spy Who Loved Me," James Bond takes a comely young KGB agent on a spin in a sporty looking Lotus sports cars. It is one of the most iconic images in any Bond film: pursued by Jaws' henchmen, Bond steers the Lotus off a dock, and into the water, where the car promptly turns into a submarine.
But after production on the movie concluded, the vehicle, which was built by Florida-based Perry Oceanographic, was mostly forgotten. According to SuperYachts.com, the car was shipped first to a storage unit on Long Island, where it remained for ten years, until the storage account became delinquent, and a local couple acquired the car in a blind auction. For the next couple decades, the Lotus remained mostly out of the spotlight.
And now it belongs to serial entrepreneur – and space flight pioneer – Elon Musk. After Jalopnik reported that Musk had purchased the car for $866K at an auction in London, Musk confirmed the details of the deal to several outlets. "I was disappointed to learn that it can't actually transform," Mr. Musk said in a statement obtained by CNN. "What I'm going to do is upgrade it with a Tesla electric powertrain and try to make it transform for real."
---