Online tales of everyday heroes
New website seeks to inspire kindness by promoting past good deeds.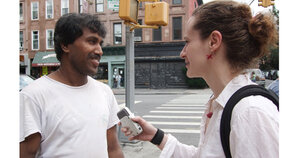 Courtesy of Pimpila Thanaporn
Natalia Paruz, who performs in New York subway stations, couldn't help but notice a blind couple getting off a train at the Lexington and 59th Street stop. The pair was clearly unfamiliar with the station and asked a young man rushing by where the exit was located. Rather than merely point them in the right direction, he offered to escort the couple to the door.
"He was obviously in a hurry," recalls Ms. Paruz. "But he decided to put his life on hold for a moment and help these people."
Playing music around the city, Paruz has witnessed countless "smaller acts of heroism." She has long wanted to share with others the kind deeds of New Yorkers, who she says have been unfairly stereotyped as scary and unhelpful.
Now, she sends these anecdotes to Hero Reports. Launched last month as a student project, the website asks for feel-good stories from across New York and other cities.
Hero Reports aggregates, arranges, and archives brief narratives about everyday good deeds in different mediums – words, pictures, audio, and video.
Massachusetts Institute of Technology grad student Alyssa Wright designed the website in response to the New York subway safety slogan: "If you see something, say something."
This counterterrorism campaign, rolled out after the attacks of Sept. 11, 2001, "brought suspicion into our everyday spaces," says Ms. Wright. "Our awareness of body and space has shifted since 9/11."
---