How to download free books, music, and movies from local libraries
Bookmobile teaches people ways to digitally tap into the next phase of book lending.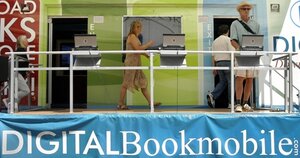 Joanne Ciccarello/Staff
In a time when practically any question can be answered through a Google search, brick-and-mortar libraries are evolving to remain relevant.
Rather than cede ground to search engines, e-book readers, and download services, more than 7,500 US libraries are adopting their competitor's tricks and offering digital means to access books, music, and movies – free of charge.
The embodiment of this effort parked outside Boston's City Hall last week.
Inside the 75-foot-long, 18-wheel bookmobile are computer workstations, portable download devices, even a souped-up lounge replete with a "pleather" couch and a flat-screen TV – all designed to teach Bostonians how to use the newest in librarian tech: the digital lending library.
The bookmobile reveals the best-kept secret librarians don't want to keep, say Boston Public Library staff and employees of OverDrive Inc., a Cleveland-based supplier of electronic and audio books, video, and music. Many of the nation's libraries use OverDrive for 24-hour access to digital collections that patrons can "check out" on their own laptop, Blackberry, MP3 player, or other hand-held devices.
This newfound digital omnipresence means Web-enabled devices can complement – rather than supplant – local libraries, says Jim Rettig, president of the American Library Association.
"We build intellectual capacity with little loans that, together, make a big difference," he says.
---