reCaptcha: How to turn blather into books
Ten seconds of work has digitized libraries, whether the amateur translators know it or not.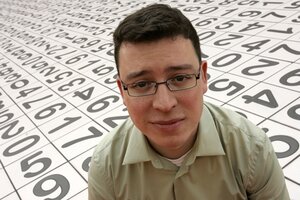 Gene J. Puskar/AP
When you buy a concert ticket on Ticketmaster, post something for sale on Craigslist, or poke an old friend on Facebook, you may not know it, but you're helping to put millions of books online in a vast free library.
To access these websites, you must decipher two squiggly words to prove that you're not a computer program designed to spam the site. Once it knows you're human, the website lets you continue.
Those two decoded words don't disappear, however. In fact, your brain has deciphered words that had baffled the scanning software used for an enormous project to digitize every public domain book in the world.
"We can coordinate literally millions of people on the Internet to work together to do something that computers cannot do," says Luis von Ahn, an assistant professor of computer science at Carnegie Mellon University in Pittsburgh.
Mr. von Ahn helped develop the first version of these security puzzles in 2000, stringing together random combinations of words and numbers then distorting the text to make it impossible for automated spammers to decode.
Some 200 million of these words, dubbed "Captchas" for Completely Automated Public Turing test to tell Computers and Humans Apart, are typed every day by people around the world.
---