REVOLT: The Segway-maker's next move
Never mind the new deal with GM. Dean Kamen reaches back to an 1800s combustion engine to fire up automotive's electric future.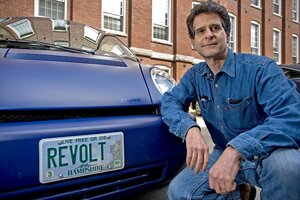 Ann Hermes/The Christian Science Monitor
General Motors perpetually promises to deliver its Volt electric car. Tesla Motors has the wealthy and trendy anticipating its luxury electric sports car. The Chinese say they will mass produce electric cars to help clean up their choking cities.
But none of them is committed to do what Dean Kamen hopes his prototype REVOLT hybrid-electric car will do: Bring electricity to the 1.6 billion people who still live without it.
Mr. Kamen, an inventor and entrepreneur perhaps best known for the two-wheel Segway Human Transporter, doesn't want to get into the car business himself. He just wants to see the Stirling engine that helps power the REVOLT be mass produced for vehicles. That would drive down the price, he says, and allow it to be cost-effective in another role: as a miniature electric plant for villages in the developing world.
A Stirling can run on just about anything that creates heat, from gasoline, kerosene, and ethanol, to natural gas, propane, hydrogen, and, yes, the methane given off by animal manure.
In a recent test, two villages in Bangladesh ran Stirling engines to create electricity for 24 weeks – using only cow dung for fuel. "We're pretty excited about that," Kamen says.
---