Will e-trucks deliver your snail mail?
US Postal Service looks to "electrify" its fleet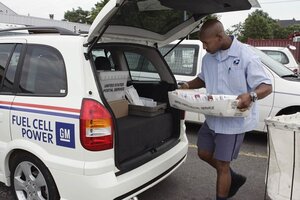 Reuters/File
That familiar stop-and-go growl of a US Postal Service van schleping down the street, gulping a gallon every nine miles as it delivers the nation's mail, may soon be a sound of the past.
With gas costs biting and an aging American mail fleet nearing the end of its road, the idea of transforming the nation's largest public parade of gas guzzlers into an environmentally friendly 21st-century fleet is winning buzz and backers in Congress and the Obama administration.
More than a century after it unveiled an all-electric van that halved mail delivery times – then dumped the idea for gas-powered vehicles – the Postal Service is again looking seriously at electric-powered delivery.
Besides saving hundreds of millions of dollars in gasoline costs, switching the nation's 142,000 postal vehicles over to battery power could boost electric-truck development nationwide and provide clean mail delivery for the next century, a new federal study has found.
"Electrification of the Postal Service delivery vehicle fleet is practical, achievable, and desirable, and should be initiated now," concludes a draft study of the vehicle-electrification idea for the Postal Regulatory Commission (PRC), a five-member body that advises the Postal Service.
In a newspaper opinion article last February, Ruth Goldway, the PRC commissioner who initiated the study, argued the time had come for the Postal Service to replace its fleet and go electric. All-electric vans have been tested by the Postal Service and "seem ideally suited" for the Postal Service's relatively short 20- to 25-mile routes, she says in an interview.
From mail sent by stagecoach, train, and later airplanes, the Postal Service has long been a partner in developing the economy, Ms. Goldway says. An all-electric fleet could help establish a market for electric-vehicle parts and batteries just as US vehiclemakers are ramping up to make plug-in hybrid electric and all-electric consumer vehicles.
---
Follow Stories Like This
Get the Monitor stories you care about delivered to your inbox.