Video games that let you play with your news
Peace talks, Sully's landing, even the economy spawn a buzzy genre of games.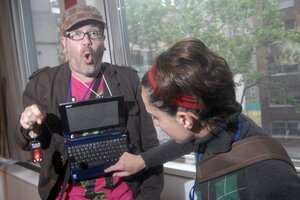 Stephanie Keith/Special to The Christian Science Monitor
Two weeks after the first swine flu case made headlines, video-game developers Jude Gomila and Immad Akhund unleashed a viral outbreak of their own: an online game poking fun at the much-hyped "epigdemic."
Their game, "Swinefighter," lets players send a doctor, armed with a massive syringe, around the world to take on flying green pigs. It's a silly spin on the news, but the game's popularity has grown quickly. Since its release in April, "Swinefighter" has been played more than a million times, thanks to fans spreading the word through social-networking websites such as Facebook and Twitter.
"Swinefighter," is just one of many online or mobile games inspired by current events. This increasingly popular genre, often called news games, has played off topics as diverse as rebuilding the economy, Chesley "Sully" Sullenberger's successful landing of Flight 1549 on the Hudson River, and the Iraqi journalist who threw a shoe at President George W. Bush.
"Games like these generate buzz," says Kate Connally, vice president of AddictingGames, an independent gaming site that has developed numerous news games including "Hero on the Hudson," which reenacts Mr. Sullenberger's landing. "While these games are entertaining, they also inform, and in some cases, educate."
---
Follow Stories Like This
Get the Monitor stories you care about delivered to your inbox.