A cellphone plan to bridge digital divide
Firms and feds offer free connections to customers shut out by high costs.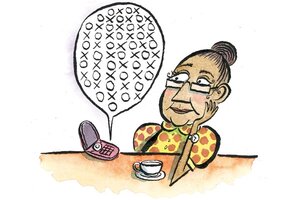 Julia Gran
A year ago, Christina Beck had no access to a telephone. The single mother of a 2-year-old son, she could no longer afford her monthly phone bills and was forced to use her roommate's work cellphone to make doctor's appointments or call her family.
Then, sitting in front of the television in her Boston apartment one evening, Ms. Beck saw an advertisement for SafeLink Wireless, a program launched by prepaid cellphone provider TracFone Wireless that provides free mobile service for low-income individuals.
Beck applied online at her local library. Five days later, the phone, equipped with 80 minutes of free call time per month, arrived in the mail.
"When I saw [the ad] and saw that it was free, I thought it was wonderful," says Beck, who qualifies for welfare benefits. "It helps people out like me ... people who can't afford phones."
While "the digital divide" often refers to computers, low-income families also struggle with a divide over phones. Potential employers and emergency services often revolve around telephone lines, but some 6 million Americans – almost 2 percent of households – go without them. SafeLink Wireless has helped bridge that gap in 17 states.
SafeLink grew out of the Federal Communications Commission's Lifeline program, launched in 1984 to provide discounted land line access for low-income families. But "traditionally [Lifeline programs] have been under-utilized," says FCC spokesman Mark Wigfield. In 1996 the government expanded the service to mobile phones to "help boost participation in the Lifeline program and ... give low-income families an option for phone service that met their needs."
---