The 'living, breathing' economy
New views of the economic bust consider finance as a dynamic ecosystem.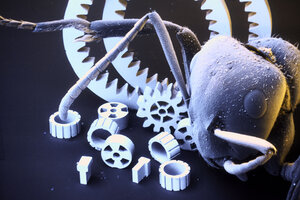 Newscom
Some time in mid-2008, mortgage defaults reached a critical mass. Wall Street went into free fall, and the US economy began to unravel. Then, like tumbling dominoes, economies around the world followed suit.
How could a few Americans defaulting on mortgages send the world economic system into a tailspin? There are probably as many answers as there are economists – maybe more. But for one school of economic thought, the more fundamental question is, why did almost no one see it coming? For these economists, the recent collapse reveals problems not just with the financial structure, but with how people conceive of and model the economy. A myopia pervades mainstream economic thinking, they charge. It fails to capture the dynamic – and somewhat chaotic – nature of what's essentially a living system.
"We're moving from looking at the economy in equilibrium to looking at the economy as a dynamic system that's always changing," says W. Brian Arthur, an external professor at the Santa Fe Institute in New Mexico. "It's very much alive, ever-changing, and it's never at equilibrium."
---
Follow Stories Like This
Get the Monitor stories you care about delivered to your inbox.