A second income on Second Life
Entrepreneurs sell virtual products in the online world – but the money they make is very real.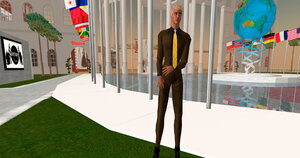 SECOND LIFE COURTESY OF MICHAEL ALONZO
"Blaze Columbia" is, by any measure, doing well with his line of designer clothing. He's on track to generate more than $100,000 in annual profits, barely a year after launching his business. And that's in addition to a first career as a professional photographer.
There's just one big difference between the clothing that this Missouri resident produces and that of any other top-of-the-line dress or business suit: His don't exist – at least not in the physical world.
"Mr. Columbia" is an in-game name for a player on Second Life (SL), a Massively Multiplayer Online Role-Playing Game (MMORPG).
Columbia, who requested that his real name not be used because he wishes to keep his "real life" and "online life" separate, sells virtual clothing to other players, part of a purely electronic economy that's redefining how some think about the nature of money.
In a traditional sense, the word "economy" tends to evoke images of huge factories churning out products that are bought by consumers, who spend the money that they've earned by their labor – perhaps working at a factory. With the advent of the virtual economy that exists within SL, however, the "product" has been so far removed from a physical entity that it's unclear what value it holds.
SL claims more than 1 million users, allowing its "citizens" to mold their avatars (online representations) into whatever form they choose – from mundanely human to exotic animal-human hybrids – and interact with other members.
The website has already generated publicity as a place for distance learning and virtual concerts – and notoriety for its "adults only" venues and instability. But there's also a powerful and thriving economic engine whirring beneath its surface.
---