Why do so many Americans have crummy Internet speeds?
At least 14 countries have zoomed past the US when it comes to broadband Web access.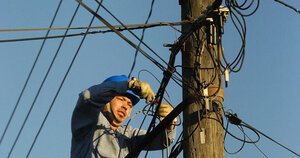 NEWSCOM
A decade ago, I lived in a small town in Nova Scotia while working for csmonitor.com. Windsor had a population was about 3,500 and I don't imagine it's grown much since then. But even back then, I had high-speed broadband access, which at the time was almost unheard of in Boston. In fact, I used to joke with my Monitor co-workers that it was hard to visit them in Massachusetts because it meant my Internet speeds slowed down so much.
While broadband access has grown in the United States over the past 10 years, it's not as dramatic as you might think it is based on the TV commercials and direct-mail flyers trumpeting high-speed access.
In fact, a new report by the Organization for Economic Cooperation and Development (OECD) shows that the US ranked 15th out of 30 developed nations in 2007 when it comes to broadband penetration – a drop of three places from 2006. While the US has the largest number of broadband subscribers – about 70 million – only 23 percent of Americans subscribe to broadband.
The report also shows that Americans pay more, on average, for broadband connections than residents in 21 other OECD countries – and those connections run at slower advertised speeds than 13 other countries. In other words, the performance of US broadband service is pretty mediocre.
In the past, defenders of US broadband performance have argued that countries with a higher population density – more people living in closer quarters – have an easier time rolling out broadband services.
---