In Silicon Valley, an economic rebound
The innovation capital is prospering again, with more jobs and the nation's highest wages.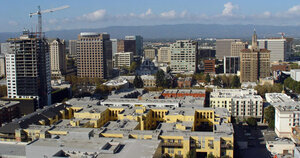 AFP/Getty
There's a place in the United States where factories are thriving under global free trade, pay is scaling record highs, and the housing market is sturdy as brick.
In Silicon Valley, the American Dream endures. The region has added thousands of jobs and recently overtaken Manhattan for the nation's highest weekly wages – even as Californian cities just 80 miles east form the glowing core of the real estate meltdown.
It's not that the tech hub is impervious to downturns: Just six years ago, its capital, San Jose, suffered the greatest loss of jobs of any major US city since the Great Depression. But as before, Silicon Valley has reinvented itself and rebounded.
The region's resilience holds lessons for the United States as the country faces stiffer global competition, say experts. Specifically, there's a future for high-tech manufacturing and exports in the US economy with the help of a weak dollar, strong education, and the embrace of immigration and change. Government can also help with the right incentives to speed up business deals.
"The Silicon Valley economy today is one of the healthiest that we've seen in a generation. The reason is that it's a diversified portfolio," says Russell Hancock, head of Joint Venture: Silicon Valley Network, a group that connects regional business and government leaders. "They call it Silicon Valley, but really that's a misnomer. We really should be called Innovation Valley."
---
Follow Stories Like This
Get the Monitor stories you care about delivered to your inbox.