ISPs enter the targeted ad game
Direct marketing is big business online. But this business shift has privacy advocates worried.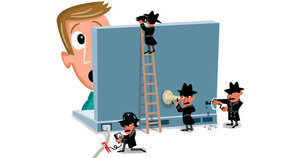 Scott Wallace – Staff
Until recently, Internet service providers (ISPs) were just that: a bare-bones channel through which the Web flowed to customers.
They were stuck manning the Internet spigot as Google and Microsoft lapped up the profits from incredibly successful targeted ads. Every time users type in search terms or read letters in Gmail, the company learns a little more about what ads might appeal to them. Online social networks such as Facebook have also cashed in on direct marketing by picking up keywords in user profiles.
But now, many ISPs want in on targeted advertisements. From their perspective, they are the best source for user data. Google can only track what users do on its sites. But since ISPs control the flow, they can monitor everything a customer does online.
It's the marketing mother lode, but this shift in business practices worries some privacy advocates.
"There is a definite push for more data collection," says Alissa Cooper, chief computer scientist at the Center for Democracy and Technology. "[ISPs can also] collect your search terms. They claim they limit that. We haven't done independent research, but if you look at the capabilities of their devices, they're certainly capable of looking at other types of traffic."
---
Follow Stories Like This
Get the Monitor stories you care about delivered to your inbox.