How to make your kids' computer time educational – and fun
The Monitor's technology columnist gives his educational software "best of" list.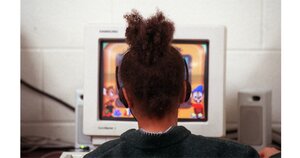 Newscom/file
As a parent of four children under 13, summertime poses an interesting conundrum: How do I get them out of the house and off the computer?
Oh, I have plenty of strategies. I bought them "The Dangerous Book for Boys" and "The Daring Book for Girls," which gave them hours of interesting things to do. Some days I just kick them out of the house with the admonition: "Don't come back before suppertime."
But there are rainy days, and my kids love the computer. So we made a deal: Each child gets one hour of computer time, only after 5 p.m., split between a half hour devoted to "fun" and the other half to education.
Now I didn't want them to feel like I just asked them to take a dose of caster oil, so I spent some time looking for educational software that is, well, fun.
Fortunately, software developers have already grasped this bull by the horns. Sort of, "if you can't beat 'em, teach 'em." While I can't list every good piece of educational software available, here's what I like best:
Anything with Carmen Sandiego
Carmen is long gone from the tube, but her software is still out there and it's great. You know the drill: Carmen is a spy for the bad guys and the goal is to capture her as she flees across the world. My two youngest kids love this game and often play it together. I'm constantly asked questions like, "Dad, where is Romania?" or "What is this place?" or "Who was this guy?"
---
Follow Stories Like This
Get the Monitor stories you care about delivered to your inbox.