Video-gaming strives for respect. Is it a sport?
A virtual 'torch relay' heralding the World Cyber Games ends next week in Germany. It's part of an effort to bring video-game competition into the mainstream.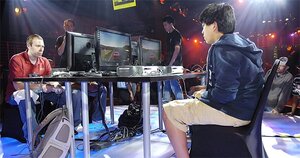 Darryl Dennis/Icon SMI
Attention will be riveted on the Olympic torch Friday during the opening ceremony of the 29th Olympiad, but in cyberspace, another torch relay is under way to promote visibility of a "sport" not yet ready for prime time in Beijing. It is the digital torch of the World Cyber Games, being passed from country to country, ultimately to land in Cologne, Germany, on Aug. 11.
World Cyber Games? That's right: pro video-game play.
Before anyone snickers, remember that sports channel ESPN routinely showcases poker tournaments, which arguably involve even less athleticism than video-gaming. Indeed, competitive video-game leagues have contracts with ESPN, MTV, and DirecTV, draw as many as 80,000 paying fans to arena events, and boast dozens of formal teams that pay salaries of up to $90,000 a year, putting video-gaming on the cusp of mainstream competition.
"Video games are only getting bigger and more pervasive," says Michael Kane, author of the book "Game Boys: Professional Videogaming's Rise from the Basement to the Big Time." "So the question is, what about the kids who are the best at it? Will they be rewarded for their ability? That's the attempt being made now, and they are moving forward with baby steps."
As recently as two years ago, he says, some 15 young aspirants were making roughly $20,000 each. Today, as many as 90 full-time professionals make as much as $90,000 a year, he says.
---
Follow Stories Like This
Get the Monitor stories you care about delivered to your inbox.