Will Google search favor Google content?
The search giant's new online encyclopedia raises concerns about conflict of interest.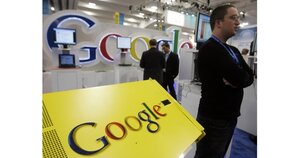 Paul Sakuma/AP/file
On the Google scale of projects, the search giant's newly launched online encyclopedia Knol ranks as relatively minor. But for some, it's a stretch – not technologically, but ethically.
Google has over the years expanded its Web presence beyond the familiar search box. With each foray into content, it raises concerns about conflict of interest with its original function as unbiased search engine – concerns that Google search would be disposed to point to Google content first.
"This is a step too far," says Danny Sullivan, editor in chief of Search Engine Land. "Google's job started out being a service that points people to other information, and that remains their primary job – not to be providing the information themselves."
The company now controls the leading online video site YouTube, owns a major blogging platform, and has advertising inventory on millions of external pages thanks to AdSense and DoubleClick.
Like most search engines, Google keeps secret the algorithms that rank search results, meaning that users are left to trust the company not to favor its own burgeoning content over others.
"I would prefer that a search engine keep church and state separate," says Jay Bhatti, co-founder of Spock.com, a people search engine. "You can't choose to be a content creator as well as a content aggregator that impartially sends people to data sources. It's very tough."
---