Marillion's plan to make money by giving away its albums
After years of fighting music piracy, another band decides now to embrace it.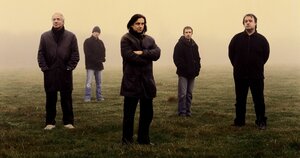 Courtesy of Carl Glover/Marillion
In an effort to confront illegal downloads, a rock band called Marillion has developed an unusual technological Trojan Horse. The British rockers have seeded piracy websites with what appear to be illegally distributed copies of its next album.
The catch: Each file contains a hidden gizmo. When downloaders access the files on their computers, an interactive window appears with a jovial video message from the band.
"Thanks for being a fan," says Marillion keyboardist Mark Kelly in the pop-up display. "If you'd like us to continue, please support us in any way you can." Singer Steve Hogarth adds, "We're not millionaires."
The band also offers the tracks without the automated video free of charge in exchange for an e-mail address.
For years, established bands such as Marillion have tried to offset declining album sales by imploring fans not to upload albums to peer-to-peer (P2P) networks. They're losing. According to the International Federation of the Phonographic Industry (IFPI), illegal downloads outpace legal tracks by a ratio of 20 to 1.
Marillion's initiative may herald a new business model for coping with pirates: If you can't beat 'em, have 'em join your mailing list. Then encourage those previously invisible listeners to attend live shows, hoping that they'll be converted from casual fans to hard-core followers.
"It's easier to distribute music and, because it's so much easier, the value has been pushed down," says Brian Zisk, cofounder and technologies director of the Future of Music Coalition. "What has really retained value is the relationship that the artists and fans have."
---