With videos, high art meets high-tech
Aging formats and rights agreements ensnarl the growing video art genre.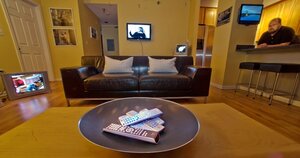 Stephen Carrera/Special to the Christian Science Monitor
Jefferson Godard starts his morning like anyone else. He turns on the radio. He turns on the coffeemaker. He turns on "Stealing Beauty," a limited-edition video installation that continually loops images of a family shopping at Ikea.
"Having these saturated sounds and images surrounding you all the time, it never becomes dull," he says. "It's like I'm living in a machine. A machine of video art."
The Chicago architect is among a growing segment of serious art collectors who are helping elevate the commercial value and cultural currency of video art. The medium arrived in the early 1970s with the advent of home recording and since then has evolved to become the vanguard art medium of the digital era.
But video art faces challenges that position it less with traditional art forms and more with advances in new media, which have greatly disrupted the recording and film industries and sent their traditional business models in a tailspin.
Unlike with painting or sculpture, video art has a far less tangible value. It's sold on technology that can quickly become obsolete, and even masterpieces can be copied almost infinitely onto new video cassettes or DVDs.
Because of these quirks, exclusivity and copyright have become serious negotiating issues among video artists, galleries, and collectors. With new media constantly evolving and top works fetching up to $500,000, the stakes are high, which makes addressing these issues a continuing process.
---