With new Web services, more companies are working in the 'cloud'
Google, Apple, and now Microsoft turn the Internet into a portable filing cabinet for businesses.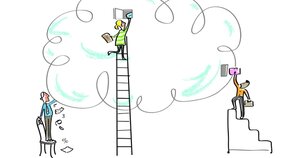 John Kehe/Staff
When Tien Tzuo founded an online billing company called Zuora last spring, he had his head in the clouds.
Mr. Tzuo didn't buy any powerful computers to store data. That meant he didn't have to hire computer experts to keep them running. He didn't even buy software like Microsoft's Office for his employees' computers.
Taking advantage of what's becoming known as "cloud computing," Tzuo bought all the computing services for his 42-person company at a nominal cost from Google, through a program called Google Apps. (Google also offers a similar service for free, if users are willing to deal with ads.)
All the computing is done online. Besides using Google's familiar e-mail system (Gmail), employees at Zuora's Redwood City, Calif., headquarters and its remote offices in places such as Beijing can collaborate on documents, share calendars, chat, and send instant messages to each other online. The employees feel close together, despite the huge distances between offices, Tzuo says.
"Any start-up that doesn't use cloud computing right now is at a competitive disadvantage," he says.
Like "Web 2.0" before it, "cloud computing" has become a controversial buzzword in the online world.
---