The art and science of playing with your food
A dash of tech and a hint of fun keep the 'hungry scientists' satisfied.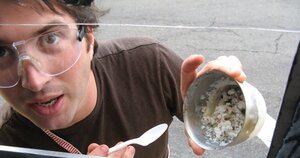 Courtesy of Patrick Buckley
At an ice-cream booth, Patrick Buckley dished out ice cream to attendees of Maker Faire, a do-it-yourself festival held earlier this month in Austin, Texas. With flavors such as frozen mint cucumber lime and BBQ honey, the treats were far from traditional. Nor were they handchurned the old-fashioned way, with the required hour-long wait before serving.
Instead, Mr. Buckley and a group of so-called "hungry scientists" were serving instant, microbatch cryogenic ice cream, frozen in about 30-second intervals using liquid nitrogen.
"Food's always been a focal point for communities," says Buckley. "We're just doing that with a twist of interesting new technology."
While the latest developments in experimental and scientific cooking, known as molecular gastronomy, might originate from the high temples of haute cuisine, a group of part-time tinkerers have been exploring quirky cooking at home.
The hungry scientists have whipped up everything from lollipops embedded with LED lights to a modular pecan pie using a basic understanding of structural engineering.
"It's like 'Mr. Wizard' meets 'Iron Chef,' " says Ryan Horan, a baker from Somerville, Mass. "People cobble things together in their house."
This do-it-yourself spirit sets them apart from formal food scientists, he says. " 'Molecular gastronomy' is an almost foreboding term. It almost makes you seem like a food snob," Mr. Horan says. "A 'hungry scientist,' it's more like a tinkerer in the garage, working under the hood of a Ford."
These cooks combine lab materials – dry ice and circuit boards, for example – with traditional ingredients, such as powdered sugar and whole milk. Borrowing a page of the open-source software world, they post their favorite innovations on websites such as instructables.com and hungryscientist.com.
---