The GPS as dashboard snitch
Data from popular navigation aid helps police. What about privacy?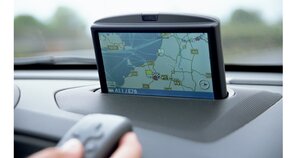 Newscom
In their cocoons of leather upholstery, soothing high-tech sound systems, and automatically activated personal seat settings, drivers have come to regard their car interiors as mobile extensions of the homes that are their private refuges.
The courts have tended to disagree.
Global positioning systems and factory-installed "black box" event data recorders effectively keep late-model vehicles under surveillance 24/7, providing evidence that can place a suspect at a crime scene, undermine an alibi, expose a cheating spouse, or prove liability in an accident.
Although privacy rights advocates warn that the devices augment an already intrusive network of security cameras, speed-monitoring radars, and instantly available databases, police and prosecutors hail the technologies as powerful investigative and forensic tools.
GPS tracking records introduced at trial put a Yolo County, Calif., man at the scene of arson fires, leading to his conviction in October for setting a dozen blazes in 2006.
A Commerce, Calif., man suspected of robbery was tracked by police detectives who planted a GPS unit in his car, mapping his movements and using the evidence to convince a jury he was guilty of assault with a deadly weapon.
In murder cases in Illinois, Washington, and California, the technology has been credited with helping establish guilt.
The evidence is sometimes the product of unwitting self-surveillance. GPS units keep positioning tracks that, if not erased, create a record of a person's movements.
Event data recorders are standard equipment in most new cars. They record speed, braking, signaling, and other driving behaviors, and can show investigators vital details about what led to a crash.
---