2008's most intriguing, fun, and brave technologies
Column: Tom Regan rolls through the year's clever devices and creative decisions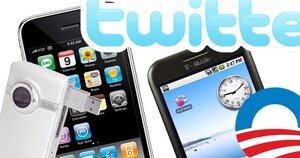 Photo collage/Staff
It's hard for one guy to declare the "best of" anything. So here's a list that feels more natural to me: the most intriguing devices or fascinating tech developments in 2008. Feel free to add your own ideas in the comments section below.
Coolest device: Apple iPhone 3G
Slick, elegant, and easy to use, you could argue that you don't need a laptop if you have one. You can very easily browse the Web, listen to music, make a phone call, play a game, and figure out where you are and how to get where you're going. When you've done all of that, Apple's App Store offers thousands of other things that you can do on the phone. But the best thing about the iPhone 3G is that it gets it right: the feel, the look, the way it works. Which, it has to be said, is something that Apple does better than anyone else. I can't say the same about the BlackBerry Storm, surely the year's biggest tech disappointment. That smart phone feels as if it was designed by a committee that was not sure why they were all together.
Best use of an existing technology: The Obama campaign
This is not a political endorsement, merely an acknowledgement of Obama's brilliant use of technology that has been around for years. By using text messaging and e-mail to reach out and repeatedly touch potential voters – especially young ones – the Obama campaign not only brought millions of new voters into the American political system, but also raised a ton of money at the same time.
---