Eureka! Real science breaks into TV shows
Once ignored or abused to spice up plots, bona fide study now fills prime-time lineups.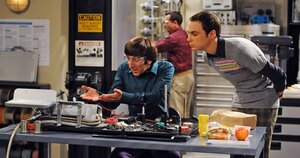 Ron P. Jaffe/CBS
In the space of just 17 months, UCLA astroparticle physicist David Saltzberg has become the nation's preeminent science teacher. As the consultant to "The Big Bang Theory," a CBS sitcom about four dweeby scientists and the pretty blonde who lives across the hall, Dr. Saltzberg gets to share his expertise with an audience of millions.
Sample dialogue from a recent taping: Penny asks Leonard, her experimental-physicist neighbor, how he befriended his geeky colleagues, Howard and Raj.
"I don't know," Leonard retorts. "How do carbon atoms form a benzene ring? Proximity and valence electrons."
The 200 members of the live studio audience, perched in bleachers overlooking the set, howl at the punch line – and secretly hope there won't be a test afterward.
"Maybe there are people Googling things they heard on the show," says Saltzberg, in a recent phone call from a research center in Antarctica. "As a physicist, the idea of getting 11 million people to tune in to watch physicists every week is a remarkable opportunity. The fact that they show these scientists, these people, as so passionate, has to be helpful."
---
Follow Stories Like This
Get the Monitor stories you care about delivered to your inbox.