Buyer's guide: How to pick the right HDTV
What to think about before you get a fancy flat screen.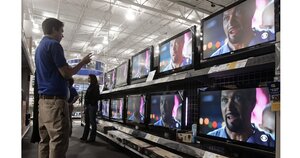 Mark Humphrey/AP/File
If you haven't yet sprung for a high-definition TV set, the week before the Super Bowl is a good time to make the upgrade. Sports look great in HD, and football in particular is easier to follow on a big, sharp screen.
The bad economy has curbed many people's appetites for big-ticket purchases, but consider that prices for flat-panel TVs 32 inches and smaller are now very close to what old-fashioned, tube-based TVs used to cost, with some models going for as little as $400. Of course, bigger TVs make for a more compelling viewing experience, but even a smaller HD set is a good step up from a standard-definition set.
Here are some ideas to keep in mind if you decide to go high-def.
What size screen should I get?
A common rule of thumb is this: Take the distance you'll be sitting from the TV set, in feet. Multiply it by four to get the number of inches of screen diagonal you should get. If you sit 10 feet from the TV, that works out to a 40-inch set. That's the minimum size – you will certainly appreciate an even larger one.
If you're choosing between a smaller TV with premium features or a larger TV for the same price, go for the larger one. Advanced features like 1080p resolution (see below) aren't of much value on small sets anyway, and nothing beats the enveloping feel of a large screen.
LCD or Plasma?
Liquid-crystal displays, or LCDs, have become the default choice for HDTV buyers, with nearly 90 percent of the market. But don't rule out plasma sets. These can be cheaper for the same size of screen, and yield excellent image quality, with deeper black images than most LCD screens. But plasma ones are thicker, and heavier, and use more power than LCD screens. The most noticeable difference is that plasma screens have glossy glass surfaces, which can produce annoying reflections from windows and light sources, so placing them requires some care.
Rear-projection sets are still around, accounting for a few percent of the market. Consider these if you want the largest possible screen and don't mind that they're not flat, wall-mountable slabs like LCDs and plasma. Image quality can be good, but they're less bright than flat panels and even dimmer when not viewed straight on.
---