And now, Twitter philanthropy
In a new era of social giving, nonprofits tap the Web's social networks.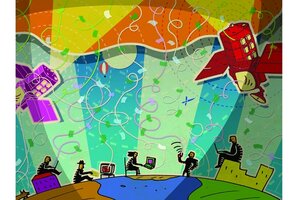 Oliver Weiss/Oweiss.com
They gathered at beach resorts in Dubai, pubs in London, and a noisy cafe in Beijing. Here in New York, they flocked to a popular West Side bar. By the time the sun set on the first annual Twestival, some 10,000 attendees in 200 cities across the globe had donated more than a quarter of million dollars to clean-water efforts in Africa and India.
Welcome to the age of "social giving." Spurred on by the success of Barack Obama's presidential campaign, campaigns like the Twestival, which was organized on the microblogging platform Twitter, are changing the landscape of modern philanthropy, say industry insiders. Out go the traditional fundraisers, with their extraneous marketing costs and rolls of red tape. In comes a new wave of digital efforts – often engineered by the same young activists that sealed Mr. Obama's election.
---