One billion iPhone apps downloaded. But how many are worth it?
As the marketplace for iPhone applications grows more crowded, young and innovative software developers struggle to make their apps stand out.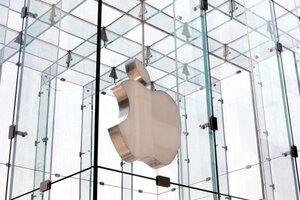 Apple is on the verge of its billionth iPhone application download. That means that loads of iPhone users are eagerly turning their pricey smartphones into virtual fishing rods, sheets of bubble wrap, and gimmicky noisemakers.
Applications such as Flick Fishing, BubbleWrap (yes, you can actually pop bubbles with your fingers on the phone), and flatulence games have helped push Apple's App Store to the brink of the billion-mark in just nine months.
While many iPhone users are apt to download the puerile, even tawdry, the iPhone and Apple's App Store have indeed sparked a technology revolution – changing how consumers interact with computers and putting software development tools in the hands of novices – that is spurring a new economy built around a 4.7-ounce piece of plastic and glass.
They're also helping keep Apple's profits higher than expected. The company reported Wednesday that profits jumped 15 percent in its second quarter to $1.21 billion largely because of the sale of 3.79 million iPhones – a 123 percent bump from sales in the same period last year.
Suddenly, everyone from the biggest corporation to the tiniest firm, from experienced software engineers to people who have never coded a computer program in their lives, is fixated on a phone. They might want to hawk a product, promote themselves, or just design something cool. While their aims can be vastly different, they are striving for the same goal: making their app stand out amid the 25,000-plus applications now available for the iPhone.
"Over the past year, there have been a lot of developers, a lot of apps, and, frankly, a lot of junk," says Dom Sagolla, a software developer who helped start iPhoneDevCamp, a gathering of iPhone developers that began soon after the first iPhone launched in 2007.
---