The Kindle's assault on academia
Column: Amazon wants to corner the textbook market. But don't think it's gonna be easy.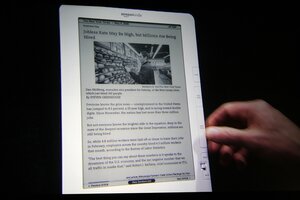 Mark Lennihan/AP
Textbooks. The bane of a college student's existence. Not only are they so expensive that one wonders why they aren't printed in gold leaf, but the darn suckers weigh a ton. (This actually starts in earlier grades -- there are days when my kids' middle school backpacks feel like they've stuffed an elephant or something in there.)
Well, Amazon.com wants to offer a souped-up version of its Kindle e-book reader as a solution.
Wednesday morning, Amazon CEO and wunderkind Jeff Bezos took to a stage at Pace University in Manhattan with Case Western University President Barbara Snyder to unveil the Kindle DX.
The DX will have a larger screen -- 9.7 inches as opposed to the 6 inches of the current model (the better to see charts and graphs with, my dear) and "a long-requested built-in PDF reader, and the ability to add annotations in addition to notes and highlights," reports Engadget.
The device will sell for $489, as opposed to the $359 for the regular Kindle.
You don't have to be a rocket scientist to figure out why Amazon wants to move in this direction. Student textbooks sales amount to $5.4 billion a year. Moving away from crushed ink on dead trees will help cut the costs of the tomes (by about a third, according to some experts) but we're still talking about a large piece of a several billion dollar yearly market here.
---