Wi-Fi hits the highway
In-car wireless puts some auto-buyers online. Will it drive them to distraction?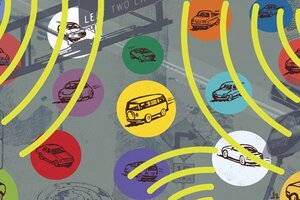 Jud Guitteau
Despite its importance in daily life, Internet access is still mostly an indoor activity. Wireless routers might stretch the Web to your front yard. But once you hit the road, say bye-bye to Wi-Fi.
That is, unless you drive a Cadillac.
In April, the luxury General Motors division launched a branded Wi-Fi service in its CTS sports sedan, a model that spokesperson David Caldwell says is Cadillac's "centerpiece brand."
This early example of dealer-installed wireless joins the several burgeoning plans that want to bring the information super highway to the highway. But some wonder if the Web has extended its reach too far. As überconnected drivers cheer, and auto dealers hope for a new hit product during this recession, safety advocates warn that cars don't need any more distractions.
Cadillac's new box taps into the Internet through mobile phone signals. It connects to nearby cellular towers and converts the information into a language that most computers understand: Wi-Fi.
"It's just like going to a Wi-Fi hotspot," says Christine Williams, public relations manager for start-up Autonet in San Francisco, which designed the Cadillac system.
The box is not a built-in feature. Instead, the carmaker is offering Wi-Fi directly through the aftermarket. Each in-car router fits into the trunk of the CTS and is hard-wired to power up when the driver turns on the engine.
Cadillac sells the boxes for $499 and charges a monthly fee of $29 to $59, depending on usage.
---