Doodle 4 Google: Why a pirate stormed Google's homepage today
The annual Doodle 4 Google had students finish this sentence: "If I could travel in time, I'd visit..." The winning Doodle 4 Google drawing shows "Pirate times."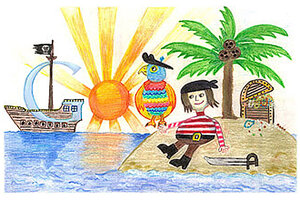 Google
Today's Google doodle doesn't follow the normal trend. It's not for a holiday, a great artist, or science celebrity. That's because today's drawing comes from Dylan Hoffman, a second-grader in Wisconsin.
He won this year's Doodle 4 Google contest, an annual competition between student artists. The winner gets his or her drawing pinned up on the biggest fridge in the world: Google's homepage.
Each year, Doodle 4 Google picks a theme. This time, Google wanted to know, "If I could travel in time, I'd visit..."
Students drew dinosaurs, ancient Egypt, and visions of the future. Dylan prefers a life at sea. His submission, "Pirate Times," holds all of the swashbuckler trappings: parrot, skull flag, bandana, treasure, a deserted island. And, like the professional doodles, everything fits neatly into the classic Google logo.
Dylan will receive a $30,000 college scholarship and a Chromebook computer (a laptop with Google's own operating system). His elementary school in Racine, Wis., will get a $50,000 grant for technology. Four finalists will receive a $5,000 college scholarship.
---