DOJ's recommended punishment for Apple in e-book case might also harm publishers
The DOJ made recommendations to rebalance the e-book market after Apple's antitrust trial. But the terms go too far, according to the five publishers involved in the case.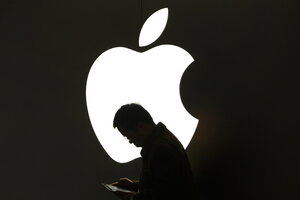 Aly Song/ Reuters/ File
Five publishers raised objections to the Department of Justice's recommended penalties against Apple in its on-going antitrust case, according to a filing made on Wednesday.
The group of publishers – HarperCollins, Hachette Book Group, Simon & Schuster, Holtzbrinck, and Penguin Random House – say that the DOJ's proposal to rebalance the e-book market would not only hurt Apple, but would also be a financial blow for the publishing companies.
Apple was found guilty of colluding with these five publishing companies to raise e-book prices in violation of antitrust laws in early July. The publishing companies involved all settled out of court and agreed to issue approximately $175 million in consumer credits, though they admitted to no wrongdoing.
In its suggestions, the DOJ recommends that Apple should not be allowed to enter into so-called "agency pricing" agreements with publishers for five years.
This measure would adversely affect publishers, according to the group's statement.
The publishers' settlements all allowed the agency model to stay in place, giving the publishing companies more control over book pricing.
The agency model allows publishers to fix the price they want retailers to charge for an e-book, and then retailers get a percentage of that sale price. In the traditional wholesale model, retailers pay publishers for the book and may then adjust the price as they see fit.
The case against Apple hinges on whether or not the company coordinated prices with publishers, not on a dispute of agency versus wholesale models.
---