Industry scrambles to find a 'greener' concrete
It takes a lot of energy to make it, and the world is using billions of tons of it. Makers are finding better ways to do it.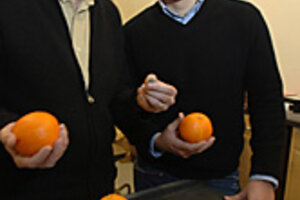 Donna Coveney/MIT
We drive our cars on it, we build skyscrapers with it.
But concrete, one of the most common building materials in the world, has an ugly secret: It's a major source of carbon dioxide (CO2) emissions, which contribute to global warming.
Roughly 5 to 10 percent of global CO2 emissions are related to the manufacture and transportation of cement, a major ingredient of concrete.
With cement production expected to grow exponentially in coming decades, the industry is trying to address its environmental challenges.
"There is not one single cement company on this planet that is not thinking about how to [reduce emissions]," says Franz-Josef Ulm, a professor of civil engineering who researches concrete at the Massachusetts Institute of Technology in Cambridge, Mass.
The manufacture of cement is relatively efficient when compared with other building materials, such as steel and wood. The problem is the scale at which it's produced – roughly 2.4 billion tons in 2006 and growing, Professor Ulm calculates.
"But there is also a great advantage to the mass production," Ulm says. "Any small change you make to it has a big impact [on CO2 emissions]."
Worldwide, manufacturers are experimenting with using organic waste materials as a substitute for some of the cement used in concrete. These materials can replace up to 25 percent of the cement in the mix. Less cement means less greenhouse gas produced.
---