The post-Polaroid age: some still cling to instant film
As Polaroid discontinues its line of instant films, some photo pros stay analog in a digital world.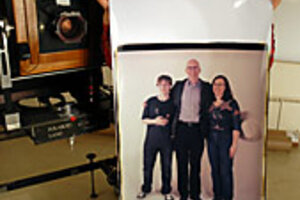 mary knox merrill – staff
Photographer Isabel Asha Penzlien shoots the latest and greatest in the New York fashion scene, but she still loads film into the back of her medium-format Hasselblad. For many clients, she likes to present actual photographs – on paper, and on the spot – so she loads her camera with Polaroid film.
"The thing with digital is it totally acts differently," she says. "I guess I'm old school."
Instant analog film is dated technology, but for some, it has practical applications and an artistic dimension not easily replicated by digital. Waltham, Mass.-based Polaroid Corp. recently announced that it would discontinue its once-popular lines of instant films. But at least one group of artists clings to instant.
Ms. Penzlien will probably switch to Fujifilm products. The company makes compatible instant film and has also moved into digital. Other photographers such as Elsa Dorfman of Cambridge, Mass., are less likely to get replacement film. For the past 28 years, Ms. Dorfman has been shooting large portraits with a camera the size of a refrigerator. It's one of only six such cameras – and she rents it from Polaroid. Once her film supply is depleted, sometime next year, that's it.
"Now, we're living in a digital world," says Dorfman, who characterizes the old Polaroid as "egalitarian" and its fans as enduring romantics. "It's sort of like the people who collect vinyl [records]," she says. "There's always people that are going to say vinyl sounds better."
---