Nature-inspired robots swim, crawl, and scuttle like animals
Through biomimetics, scientists teach machines some tricks that evolution perfected long ago.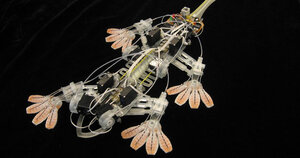 Mark Cutkosky
When it comes to designing a new robot, some scientists are finding a visit to the zoo more helpful than hours spent at the drawing board. Rather than invent new ways for a robot to navigate a forest or crowded city street, they are copying how animals already do it.
If the goal is to make robots capable of surviving any environment, then nature almost always provides a template, says Joseph Ayers, a professor of biology at Northeastern University in Boston. "Animals have evolved to operate in every environment," he says.
The movement is part of an emerging field known as biomimetics, which takes designs from the natural world and applies them to everything from architecture to textiles.
In robotics, engineer-biologist teams are finding that automatons based on the same design principles as a lobster or a gecko can overcome many of the challenges that have kept robots from entering the real world. This new school of thought is changing many assumptions about how robots operate, by emphasizing simple mechanics that can replace complex software and sensors.
"We're in the age that robots are moving out of the factory, out of rather structured environments, into a wider range of applications where the environment is less predictable, and there's a higher premium on being both physically and operationally robust," says Mark Cutkosky, professor of mechanical engineering at Stanford University in Palo Alto, Calif. He has invented cockroach- and gecko-inspired robots, among others. "One of the things that natural organisms do wonderfully well is cope with unexpected variations in the environment."
---
Follow Stories Like This
Get the Monitor stories you care about delivered to your inbox.