Sonar enters the third dimension
New style of 3-D sensors lets ships avoid hidden obstacles.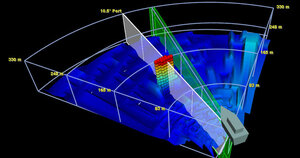 Courtesy of FarSounder
An anonymous garage in an industrial sector of Warwick isn't the most obvious place to test a revolutionary piece of sonar technology. Yet the inside of this storage facility has been turned into a makeshift laboratory by two scientists who spend more time in face masks and wet suits than the traditional goggles and white coats.
Fresh from a morning dive to retrieve a starfish-encrusted hydrophone (underwater microphone) from a nearby pier, Matthew Zimmerman and Matthew Coolidge turn their attention to testing a similar unit suspended on a pulley above the lab's showpiece: a 22,000-gallon tank shaped like a rooftop water tower.
Once lowered into the custom-built vessel, the hydrophone barely creates a ripple. But in the maritime world, FarSounder's sonar stands to make a big splash. It's the first product to answer one of the basic questions in navigation: "How deep is the water in front of me?"
Today's standard sonar, a depthsounder, only communicates the distance to the sea-floor directly beneath a ship. (As someone at FarSounder puts it, it's like steering a car by only peering through a hole in the floor.) Less commonly used is Forward-Looking Sonar (FLS), a two-dimensional system for small boats that signals the range and bearing of a coming obstacle. But though FLS can detect an object, it won't describe exactly where it is, nor its dimensions and depth.
By contrast, FarSounder's new sonar combines all three dimensions – range, bearing, and depth – in a real-time view of the whole volume of water ahead of the ship.
---
Follow Stories Like This
Get the Monitor stories you care about delivered to your inbox.