An asteroid cop gets ready to patrol
Set for launch in 2010, a Canadian satellite will look for near-Earth asteroids that could pose a threat to the planet.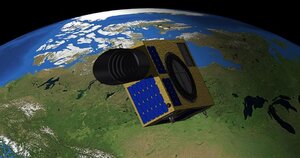 AGI Inc./Dynacon Inc./University of Calgary
A satellite the size of a suitcase may soon protect our planet from a catastrophic collision with an asteroid. Dubbed NEOSSat – for Near Earth Object Surveillance Satellite – the Canadian craft will be the world's first space telescope designed to hunt asteroids that threaten to slam into Earth.
Several ground-based telescopes already scan the sky for potential dangers, but they only hunt at night and poor weather obscures their view. By circling pole to pole in a sun-synchronous orbit about 500 miles above Earth, NEOSSat can operate nonstop, twirling hundreds of times a day as it photographs sections of space, says Alan Hildebrand, a planetary scientist at the University of Calgary in Alberta.
NEOSSat's six-inch wide telescope has a sunshade that lets it search close to the sun, where potentially hazardous asteroids are concentrated.
"We'll be regularly searching the part of the sky that telescopes on the ground are unable to search, so it makes us a little bit safer," says Mr. Hildebrand.
Hildebrand points out that while collisions are rare, we need only look at the surface of the Earth, the moon, and Mars to see craters left behind by past impacts. He estimates that large asteroids (bigger than 1,000 yards wide) smash into Earth once in a million years. Many scientists believe such a crash 65 million years ago created the 150-mile wide Chicxulub crater off the coast of Mexico and led to the severe climate change that wiped out the dinosaurs.
---