Some sobering stats on texting while driving
Column: This dangerous practice needs to be made illegal, as well as 'uncool.'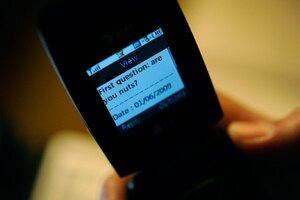 Newscom
On the one hand, I love texting on my iPhone. My wife and I often send each other text messages when she's in a meeting at work, or I'm on a conference call at home. We don't bother each other, but still get the message.
On the other hand, I hate texting, especially when it's being done by someone behind the wheel of a car (or a Green Line trolley in Boston, but more on that below).
From the urban dictionary: "Text-end: When a text-messaging-distracted driver rear-ends the vehicle in front of [him]...."
True story: About three months ago, I pulled up to a stop sign in Falls Church, Va., near where I live. A young woman in a sporty car pulled up beside me. As she pulled up, I noticed she was texting on a cellphone, barely paying attention to what was happening around her. She continued to text through the stop sign and right up to the next stoplight. My car was still next to hers, so I rolled down my window and motioned to her. She looked puzzled and rolled hers down as well. I told her that she was endangering the life of every single person on the road if she continued to text while driving. Her reply was somewhat expected. She made a rude gesture with a certain digit and roared away when the light turned.
Driving while texting (DWT) is becoming a real problem. A real and dangerous problem. It's bad enough that people can't seem to stop themselves from talking on cellphones while driving. (Raise your hand if you've almost been hit by someone talking on his or her cellphone while driving. I see, almost everyone.) But at least cellphone talkers could pay some attention to the road. Not so with those DWT.
---