Batteries help recharge the economy
The race for better batteries has spurred venture capitalists.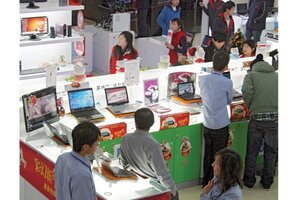 AP
If you've ever felt the frustration of trying to send an e-mail, make a call, or snap a photo only to realize that your laptop, cellphone, or camera has gone dead, you understand the need for better batteries. But while there's no question that batteries are important, they're rarely described as "exciting."
Lowly, hardworking batteries have routinely received little or no attention, while the devices they power grab the spotlight.
"When somebody sees a Bentley, they don't say, 'Oh my God, that's got a good battery inside,' " says Brian Fan, senior director of research at the Cleantech Group headquartered in San Francisco, which tracks venture-capital investments in North America, Europe, Israel, China, and India.
In the economic downturn, that could be changing.
The Cleantech Group's numbers show an uptick in venture-capital funding for batteries in the first quarter, even as overall US venture investments fell to the lowest level since 1997, according to the National Venture Capital Association.
Spurred by federal cash, electric cars, and demand for ever more powerful gadgets, investment in advanced batteries has bucked the recessionary slump and, energy analysts say, could help the economy recover.
---