How science could spark a second Green Revolution
To fight poverty and overpopulation, crops need coaxing. Advances in deep-root food plants may trigger a new Green Revolution.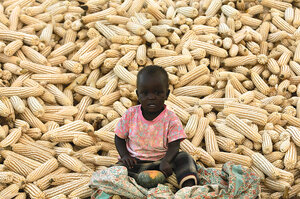 Siphiwe Sibeko/Reuters
Jonathan Lynch wants to get at the roots of the problem of producing enough food for humanity. Literally.
In projects around the world, the professor of plant nutrition at Pennsylvania State University and his colleagues are trying to develop crops whose root systems can resist drought and take up fertilizer from the soil more efficiently.
With world population expected to grow by nearly 50 percent to more than 9 billion people by midcentury, farmland is going to need to be much more productive. Even today, nearly 1 out of every 6 people in the world – more than 1 billion – are going hungry, according to the United Nations Food and Agriculture Organization.
With most good farmland already under cultivation, any new acreage would likely be in marginal land with either poor soil conditions or little rainfall. What's more, climate change is expected to make some regions drier or hotter, which may send crop yields plummeting.
What the world needs, say Dr. Lynch and others, is a new Green Revolution that can increase yields in the face of challenging and changing conditions.
"The idea that we could fertilize and irrigate our way out of this problem was the first Green Revolution" led by Nobel Peace Prize-winner Norman Borlaug and others, Lynch says. The second Green Revolution is going to be how we get plants to grow productively with less water and artificial fertilizer, he says.
---
Follow Stories Like This
Get the Monitor stories you care about delivered to your inbox.