Technology that translates, and unites
A cellphone may let a U.S. soldier 'speak' in Pashto or Dari. A browser can pick up on linguistic nuance.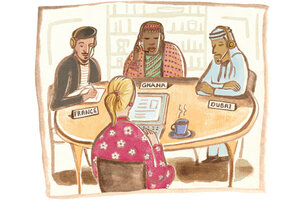 Jud Guitteau
This is the second in a two-part series on making the Web more worldwide. The first article is available here.
The "digital divide" between those who can afford an Internet connection and those who can't is sprouting an evil twin: a "language divide."
The roots of the Internet lie in United States military and university research projects, conducted in English. That language is still preferred online for international commerce and science.
But the scene is shifting rapidly. Tens of millions of new Internet users do not speak or read English and seek content in their own languages. China alone has 400 million people online – more than the entire US population – and the vast majority only read Chinese.
"There's a Chinese Internet that we don't interact with very much. There's an Arabic Internet that we don't interact with very much," says Ethan Zuckerman, cofounder of Global Voices, a community of more than 300 bloggers and translators around the world who seek out voices that are not ordinarily heard in the mainstream news media.
Those who can only read in their native language are "missing this extraordinary opportunity to get much, much better at understanding what people around the world are thinking and saying and feeling," he says.
---