Why Facebook enjoys explosive growth - despite its many stumbles
Facebook's staggering growth rolls over critics on issues from ease of use to user privacy.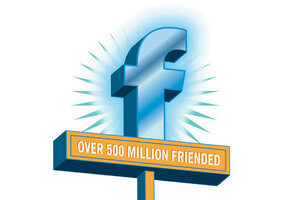 John Kehe/Staff
A few weeks ago, the American Consumer Satisfaction Index ranked Facebook in the bottom 5 percent of all privately held companies in the United States. By that measure, the most popular social network in the world is less liked by the average American than the property- and casualty-insurance industry, the companies that sell tax-filing software, the food manufacturing sector, and the makers of dog food. Larry Freed, the CEO of ForeSee, the analytics company that helped compile the ACSI results, called Facebook's performance "abysmal."
"This is a rare scenario in the American economy; usually customer satisfaction is intertwined with market success," Mr. Freed wrote in a white paper that accompanied the index. He went on to identify the various reasons that consumers – the ACSI interviewed some 70,000 of them – were dissatisfied with Facebook. Among the most pressing concerns: shoddy navigation controls, mountains of spam, intrusive advertising, annoying applications, "the constant and unpredictable interface changes," the rejiggered news feed, and problematic security and privacy controls. "There is no shortage of complaints about Facebook," Freed concluded.
The next morning, July 21, 2010, Facebook signed up its 500 millionth member. "This is an important milestone for all of you who have helped spread Facebook around the world," Facebook founder and CEO Mark Zuckerberg trumpeted on the website. The tracking firm Hitwise published data showing that Facebook had for at least one week in July replaced Google as the most-clicked website in the US. Facebook revealed that its users spend a total of 700 billion minutes on the site a month, and half of all Facebook members sign onto the site at least once a day.
---