Can Move and Kinect save a sagging video game industry?
A new crop of games, led by PlayStation Move and Xbox Kinect, steps up motion-sensing technology.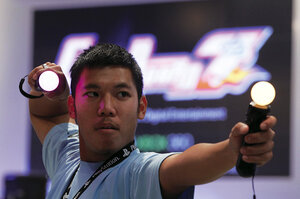 Ina Fassbender/Reuters
In 2006, Nintendo released a slim, slanted console called the Wii. Unlike the Sony PlayStation 3 and Microsoft Xbox 360, the Wii was a pretty underwhelming piece of hardware.
It didn't play DVDs or CDs. It couldn't handle HD graphics or surround sound. And it had a pretty goofy name.
What the Wii did have was the motion-sensitive "Wiimote." By waving the wireless video-game controller, a gamer could manipulate the on-screen character – one flick of the wrist sent Mario jumping, race cars flying, and golf balls soaring through the air.
The Wii was a risk for Nintendo. Conventional wisdom said that the way to make money was to create more advanced and better-looking games. But Nintendo executives bet that the Wii would attract an audience of so-called "casual gamers," who have little interest in spending 30-plus hours on the latest first-person shooter, but who might swing at a pixilated tennis ball a couple times a week.
The gamble paid off: The Wii was a sensation.
By the end of 2008, Nintendo had shipped just shy of 55 million Wiis. In 2009 – three years after the console launched – interest remained so high that the Wii outpaced Xbox 360 and PlayStation 3 sales, combined. As Nintendo reps are fond of pointing out, the Wii was a revolutionary device, one that opened up the video-game industry to whole new swaths of gamers, from young kids to their grandparents.
---