How to track down a stolen gadget
Stolen phone? Lost laptop? Missing camera? New software and services can pinpoint your purloined tech.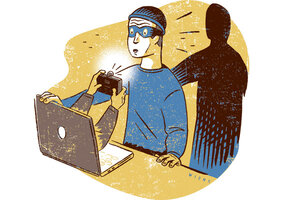 Carl Wiens
Theft is a tough crime to crack. Burglars rarely leave behind any evidence; witnesses are few and far between; and police resources, especially in cities, often go toward homicides and other more pressing crimes.
In Oakland, Calif., three police investigators must juggle 2,400 new reports of stolen property each month.
"Laptops are not so much a priority," says Holly Joshi, spokeswoman for the Oakland Police Department. "Unless a citizen has seen the burglar, we don't have the staffing levels to chase everything down."
So when Joshua Kaufman reported the theft of his MacBook to the Oakland police in March, he didn't hear anything back. But Mr. Kaufman had a secret weapon. Before his computer was stolen, he had installed Hidden, a laptop locator.
Hidden, and other forms of software like it, offer gadget owners some peace of mind. The programs help track down and recover lost or stolen electronics. Here are some of the best options for Macs, PCs, phones, and digital cameras:
Computers: The Hidden software runs quietly in the background, providing three useful, if borderline creepy, tools to locate iMacs and MacBooks. For $15 a year, the program can pinpoint a missing machine to within a quarter-mile radius, allow a Mac's true owner to take screen shots of what programs are running, and remotely turn on the laptop's webcam to snap pictures of the person using it.
---