QR codes 101: What those squiggles do
Quick Response (QR) codes link consumers to websites fast. Here's how to use them, and why you'd want to.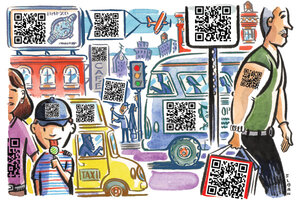 Michael Sloan
All of a sudden, Quick Response (QR) codes are everywhere. The checker-patterned squares now come emblazoned on everything from in-store displays at Macy's to bottles of Heinz ketchup. You may have even spotted them in recent issues of this magazine.
Snap a picture of one with your smart phone and the QR code will automatically load a website, cue up a video, or download a coupon right to your device.
Yet despite QR codes' seeming ubiquity, few people know how to use them. The idea sounds simple – scan and enjoy! – but using the technology actually requires a little prep work.
So, with companies experimenting with increasingly frequent and creative uses for QR codes, here's a quick primer on how to use them and why you'd want to.
"Nobody's going to have to go back home and go, 'What was the website I was going to look up earlier? I can't remember,' " says Rick Mathieson, a marketing consultant and author of "The On-Demand Brand." Now you can pull out your phones – the one device that people have on them all the time – and take action immediately."
"QR codes are a notion whose time has come," says Mr. Mathieson, "if only the technology would catch up with the concept."
The problem, he says, revolves around the three QR hurdles. First, you need to have a certain kind of phone. The Apple iPhone, Windows Phone 7 devices, and the numerous Google Android phones all make the cut. BlackBerry, Nokia, and other phones might work, depending on whether they have both a camera and some way to download software, which leads to the second hurdle:
---