4K TV: Theater quality in your living room
4K could be the next big leap for TVs. But do we really need a "higher definition" picture?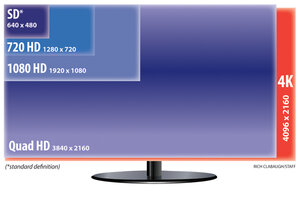 Rich Clabaugh/Staff
When high-definition televisions first rolled out, the difference was obvious. Department stores bragged about how HDTVs could reveal every bristle on a polar bear's back, every bead of sweat on a quarterback's brow. TV picture quality soon doubled again, as 720p video – still the standard for HD broadcasts – gave way to 1080p – the resolution for Blu-ray discs and some on-demand video.
This summer, TV images will leap forward once again. Sharp, Toshiba, and LG each have announced 55- to 84-inch televisions with crystal-clear pictures that rival even theater screenings. They call this new higher-definition standard "4K."
Simply put, 4K and its close cousin Quad HD quadruple the number of pixels packed into 1080p video, elevating image quality to the equivalent of mint-condition 35mm film.
"Right now, this is more of a distant opportunity for most people," says Steve Koenig, director of industry analysis for the Consumer Electronics Association.
Most Americans have already upgraded to high definition and won't be ready to buy another TV for several years, he says. When the generation turns over, shoppers can look forward to premium features, such as Internet connections and 3-D, coming baked into most televisions.
However, 4K will likely remain the gold standard in TV – for better or worse.
Hollywood stumbles toward digital
A few decades ago, a cadre of directors had soured on film stock: It's cumbersome, fragile, takes time to develop, and, once complete, costs a great deal to ship out to theaters. What if movie crews replaced film cameras with digital ones, they wondered. Cinemas could then download new attractions.
By the late 1990s, HD technology finally caught up with this vision.
---