Ready for a self-driving car? Check your driveway.
Full self-driving vehicles take to the road in some states, but plenty of older cars already have autonomous features.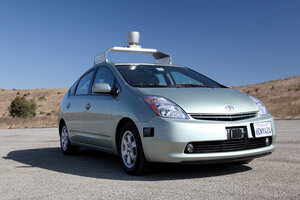 Google
Last month, Nevada became the first state to license driverless cars. It issued special plates for eight vehicles to navigate public roads using only sensors, global positioning information, and artificial intelligence.
The law requires two people to be in the car while it's moving. One monitors the computer system as it scans for bends in the road, nearby cars, and pedestrians. The other sits behind the wheel, ready to take over in case anything goes wrong.
Google, who owns this initial fleet of self-driving vehicles, says it's logged more than 200,000 miles without incident. The technology will require much more testing before fully autonomous cars roll themselves into dealers' lots. Still, pieces of this research exist in cars today.
"In the near term, we're likely to see increased driver assistance," says Bryant Walker Smith, a fellow at the Center for Automotive Research at Stanford University in California. Few people are ready to put a car on autopilot, but, through baby-step innovations, "technology will really become something of a copilot."
Commercially available vehicles can already parallel park on their own. Drivers only need to line up the vehicle and put the car in reverse. A computer takes over, turns into the spot, and beeps when it's time to apply the brakes.
---