How Apple's Fusion Drive speeds up iMacs
New iMacs will offer 'Fusion Drive,' a way to boost speed without losing storage. The Apple desktops will ship out to customers on Nov. 30.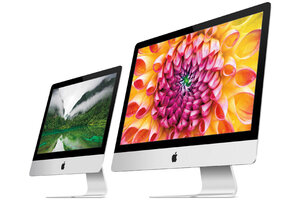 Apple
When Apple unveiled its latest iMac desktop in October, it also introduced a clever way to speed up computers in general. Shoppers can pay a little extra for an iMac with two storage drives: a traditional hard drive and a solid-state drive.
The latter – sometimes called a flash drive – is much speedier than normal hard drives. Performance tests by Computerworld show that solid-state drives can run up to 3.7 times faster. Apple says booting up an iMac with a built-in flash drive takes less than half the normal time.
Because of this significant speed boost, several computer companies, including Apple, have started to phase out hard drives and focus on flash drives.
But there's a catch. Solid-state drives are expensive, especially for any that can hold more than 100 gigabytes. Phones and tablets can get away with topping out at 64 gigabytes of all-flash storage. But the price can become prohibitive for laptops and desktops. Apple charges $300 to upgrade a MacBook Air's 128-gigabyte flash drive to 256 gigabytes. Meanwhile, many people expect modern desktops to offer several thousand gigabytes. That much solid-state storage could double the price of a computer.
---