NASA to broadcast The Beatles into deep space
The transmission of the Fab Four's 'Across the Universe' to the North Star marks the US space agency's 50th anniversary.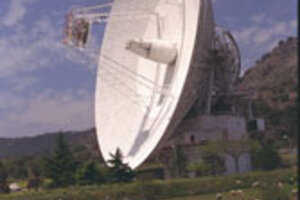 NASA/AP
In astronomical terms, it won't be long: In the year 2439, residents of the Polaris star system, if there are any, will be treated to a transmission of The Beatles 1968 song, "Across the Universe," courtesy of NASA.
At 7pm EST on Feb. 4, NASA, with a little help from its friends at Spain's space agency, will beam an mp3 of the four-minute song from a giant space antenna near Madrid. From there, the transmission will begin its long and winding road to Polaris.
Monday marks the 40th anniversary of the recording of the song. It's NASA's birthday too; the transmission will commemorate the 50th anniversary of the agency's founding, as well as the 50th anniversary of Explorer 1, the first US satellite, and the founding 45 years ago of the Deep Space Network, a network of antennas around the world that transmits and receives signals from distant stars.
---