Shuttle's risky mission to repair Hubble
With custom-made tools and a rescue plan, the seven-member crew of the Atlantis aim to upgrade the iconic telescope.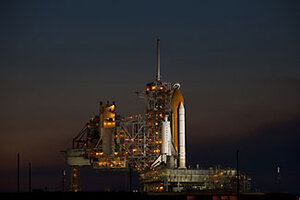 Scott Audette/Reuters
For 19 years the Hubble Space Telescope has provided mankind with extraordinary views of the universe. It now awaits the launch of one of the most extraordinary space-shuttle missions in history.
Monday afternoon, the shuttle Atlantis and its seven-member crew are set to lift off from the Kennedy Space Center in Florida for a fifth and final house call to Hubble – an astronomical icon that has revolutionized humanity's understanding of the cosmos and served as NASA's most consistent, high-profile ambassador for space exploration.
During Atlantis's 12-day mission, astronauts are slated to repair Hubble components that failed last September, undercutting the telescope's capabilities. They will also wrestle two new instruments into place – upgrades that will keep the observatory on the cutting edge of astronomy and astrophysics for several more years – and perform maintenance tasks.
A delayed mission
For a telescope designed for servicing every three years or so, this mission is long overdue. It was canceled after the loss of the shuttle Columbia and its crew in 2003, only to be revived amid public pressure and after planners persuaded former NASA administrator Michael Griffin that the mission could be flown at an acceptable risk. The shuttle program could not afford to lose another orbiter and crew and still keep its international commitments to complete the space station.
The last flight to the orbiting observatory took place seven years ago. "Hubble needs a hug," quipped mission specialist John Grunsfeld during a recent briefing. He's making his third consecutive trip to the telescope.
---