NASA moon 'bombing' a plunge into the mystery of lunar water
Two pieces of a NASA spacecraft – not bombs – will crash into the moon early Friday morning, hoping to kick up evidence of water ice at the bottom of a frigid south pole crater.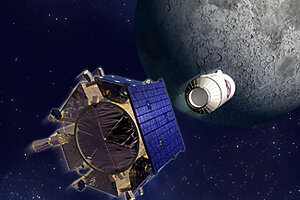 NASA / AP
UPDATE: NASA has successfully "bombed" the moon. Click here to read the story.
NASA is just hours away from punching two new craters in the moon, perhaps proving that water exists in the bottom of a crater at the moon's south pole.
Within the past two weeks, three other moon missions have reported finding evidence for water across virtually the entire surface of the moon. Now, two projectiles are scheduled to slam into one frigid crater – the first at 7:30 a.m. Eastern time Friday – in hopes of confirming that water is there concentrated as ice.
"This is really exciting stuff," says Anthony Colaprete, lead scientist of the mission, called LCROSS. "Who woulda thunk that the moon has a water cycle on it, perhaps," with water concentrations in the moon's surface changing throughout the lunar day.
LCROSS is focusing on "one aspect of that water cycle," says Dr. Colaprete, a researcher at the NASA's Ames Research Center at Moffett Field, Calif.
The LCROSS team is hunting for water ice thought to be concentrated in the moon's freezer trays – polar craters where part or all of the floors never receive sunlight. These cold traps are estimated to be some of the most frigid spots in the solar system.
---